How to End a Letter: 10 Examples & What to Avoid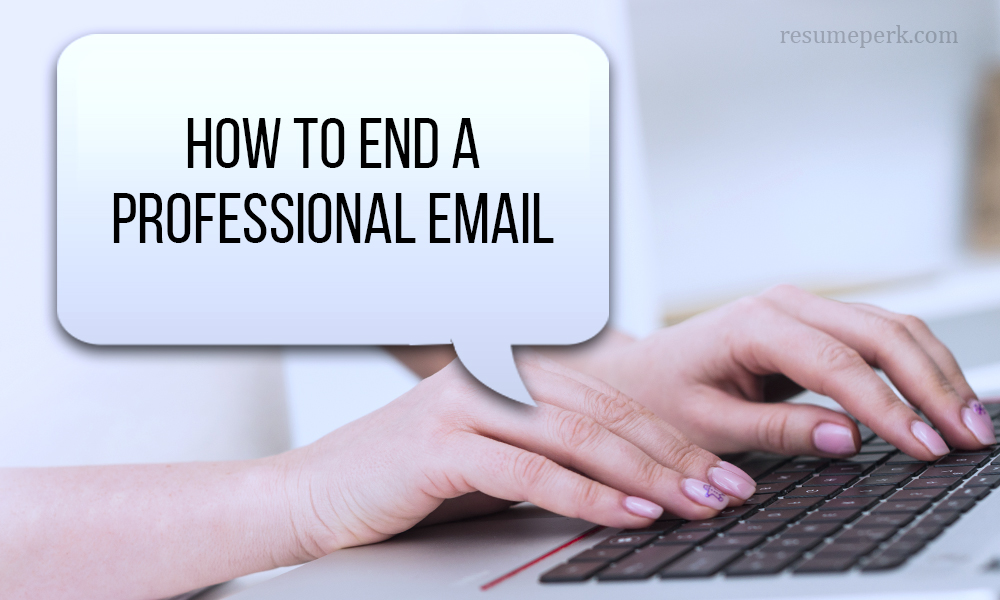 Have you ever found yourself puzzling over how to end a professional email? Then, you know how it feels. You're almost done composing that all-important letter and now feel stuck because you can't decide on the proper closing. Should you put formal letter ending phrases like "Yours sincerely", drop the laconic "Best" or leave the closing blank at all?
Effective business email writing is a must-have skill for students and professionals of all career levels. And a cover letter closing inevitably shapes the reaction of the recipient. An overly informal or simply inappropriate closing line can prevent you from getting the results you want from the person you're addressing or make a negative and unprofessional impression.
Luckily, you're not alone with your letter writing struggles. The copywriting experts of our resume writing service are about to guide you through the most effective business letter closing lines and how they apply to different situations.
How to end an email: recommendations of the online writing services
If you apply for a job or internship via email, you would benefit from the help of resume professionals with years of experience. A resume and cover letter writers of Resumeperk.com will not only pick the appropriate closing for your application letter, but also will check it for any shortcomings and fix mistakes, increasing your chances of getting noticed. We can edit and revise your resume too and ensure it speaks right to the employer's needs.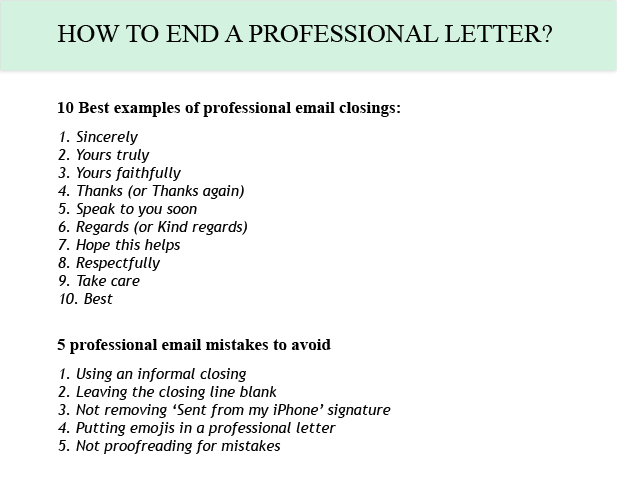 When finalizing your business email, you need to pick one of the tried-and-true, formal options. Note that business letters aren't the best place to get overly creative as you might come across as an odd person who can't master the basics of email writing. So, here are the best options to sign off an email:
Sincerely
Sincerely is put #1 because it's the most common and universal way to close all kinds of business letters. Speaking about its meaning – it restates the content of your letter in one word, pointing out that your letter's intent is sincere. This closing works for all types of instances, and if you are curious about how to create eye-catching a cover letter, keep in mind that it works best for job applications too.
Yours truly
A little less formal than the previous one, yours truly is better to use when addressing someone you are on a good note with. Although, like a previous one, this closing is all-purpose, yet its tone assumes a bit of warmth which may be misinterpreted if you use it writing to someone you've never met.
Yours faithfully
First of all, note that yours faithfully is used to address the unknown recipient (in this case, you start a letter with Dear Sir/Madam). This is another universal closing which doesn't carry any additional meanings or calls to action. it's mostly used in British business correspondence, whereas yours truly is an American popular option.
Thanks (or Thanks again)
Use thanks when writing to someone you've successfully collaborated with (a vendor, a colleague from other department and more) or a person who did you a favor. If you've already thanked the person once in the letter body, opt for thanks again. Again, if you are going to use this statement, make sure that the tone of your letter is appropriate – friendly and positive.
Speak to you soon
Speak to you soon or see you soon is used to close a letter to someone you know personally and intend to talk to face-to-face. In particular, it can be used when you're appointing the meeting with your contact or confirming an appointment.
Craving more effective email writing advice? Check out these tips: http://resumeperk.com/blog/how-to-write-effective-email-that-get-opened.
Regards (or Kind regards)
Regards is another commonly used letter ending which indicates professionalism and respect and is quite universal. This one is often complemented with additional words which slightly alter the original meaning: kind regards (indicates a bit of warmth – do not use in cold emails), best regards (a safe bet – it's like adding a polite smile to standard regards) and warm regards (semi-formal option).
Hope this helps
Let's assume that you are giving advice or providing consulting to someone via email. For instance, you are sharing some tips for overloaded writers with your college student to help with their next assignment. Or, you are sharing the information about the custom editing website that can help with their resume. In this case, hope this helps comes across as a perfect closer.
Respectfully
This letter ending speaks for itself – use it when writing to someone you deeply respect and admire, provided that the content of your email is appropriate. For example, this closing won't work in a letter of complaint or a similar one. It works best when you address a company's high-level executive or another authoritative person.
Take care
You should use this letter closing carefully, as it's more common for personal letters. Don't use it when addressing to potential customers, vendors, or your boss. However, it might be acceptable to end your letter with take care when writing to a colleague you've known for years and are on a good note with.
Wish your relationships with coworkers were better? Here's how to improve them: http://resumeperk.com/blog/how-to-be-on-good-terms-with-colleagues
Best
Best or all the best has a direct meaning – you wish the recipient all the good things. So, feel free to use it in your business correspondence, even though it sounds a bit less formal than sincerely or respectfully. Like the above-mentioned examples, it's multi-purpose and can be used in letters to business contacts across industries.
Why you need to send a closing letter to clients
We've written about why you should send a non-engagement letter if you don't move forward with a client at the start of a legal issue. Similarly, you should always close cases with a formal end of representation letter to document the end of a specific attorney-client relationship.
Bear in mind that a case closing letter is just a formal way to note the conclusion of a specific case. It doesn't mean that you can't represent the client in the future on other matters.
Sending a closing letter to clients can also help you avoid unintentional miscommunication about representation—which is a common source of malpractice claims for lawyers . This is because sending a closing letter to clients helps you avoid situations where a client thinks that you're still their attorney when you've closed the case. Putting your end of representation for a specific matter in writing ensures they're aware of the situation. It also helps protect you from claims that you didn't perform duties that you weren't responsible for.
Taking the time to create a closing letter is also a subtle way to provide customers with a client-centered experience . Remember: While you deal with legal issues every day, it's likely a stressful and uncertain time for your clients. By taking the time to communicate clearly about the status of their matter—even at the end—you reduce uncertainty and help put clients at ease.
Best practices when sending closing letter to clients
Be timely. Send a case closing letter when you're ending an attorney-client relationship on a matter—that is, when you've concluded a case or when you've decided to stop representing the client.
Be succinct. Y our letter should be easy to read and understand and it should get to the point. Avoid unnecessarily complex language and prioritize clarity.
Be consistent. Send a case closing letter to clients after concluding every case—even if you hope or expect future business from them. While it may seem counterintuitive to formally end an attorney-client relationship if you think there may be more opportunity in the future, sending a case closing letter doesn't mean that you're cutting your firm off from a client. Instead, it shows a high level of professionalism and clear communication—which could encourage positive reviews and a return to your firm if another legal matter comes up in the future.
You may like these posts
Resource:
https://resumeperk.com/blog/how-to-end-a-letter-10-examples–what-to-avoid
https://www.clio.com/blog/closing-letter-to-client/
https://www.verywellhealth.com/writing-a-condolence-letter-1132543